25/04/2023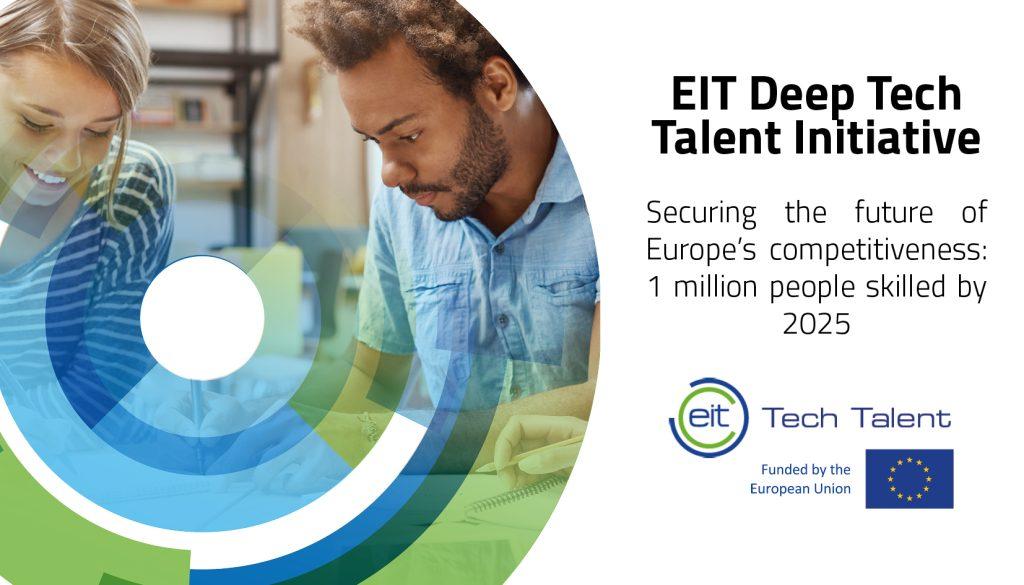 Budapest, 28 March 2023 – The European Institute of Innovation & Technology (EIT) has received pledges from JA Europe, Intel Corporation, Abodoo, the Technical University of Cluj-Napoca, Computer Vision Center, Generation and Tampere University of Applied Sciences who will partner up as part of the Deep Tech Talent Initiative to train over 500 000 Europeans . These new pledgers join the 3 400 EIT partners within our Community to support the development of more trainings and courses that will fast-track the careers of deep tech learners. The ambition to train one million Europeans in deep tech by 2025 is a critical step for Europe to solve societal challenges and stay competitive in technologies with high innovation potential.
Mariya Gabriel, European Commissioner for Innovation, Research, Culture, Education and Youth said: 'As a flagship of our New European Innovation Agenda, the EIT's Deep Tech Talent Initiative will help put Europe at the forefront of developing the technology needed for essential elements of the green and digital transitions. The progress made in only a few months proves that the EIT is the perfect vehicle for developing the best talent development programmes, in large part because of its ability to mobilise its unmatched network of partners across Europe and beyond.'
Abodoo, Computer Vision Center, Generation, Intel Corporation, JA Europe, Tampere University of Applied Sciences and Technical University of Cluj-Napoca will join the EIT's Deep Tech Talent Initiative – led by EIT Manufacturing – to offer courses and to contribute to the development of trainings that will fast-track the careers of deep tech learners. The first pledgers reflect the diversity of organisations joining the Deep Tech Talent Initiative: a combination of training providers, financial backers, enterprises, and non-profit and public sector partners who will work together to equip learners with cutting edge tech knowledge and the savvy to bring that knowledge to the market.
Programmes will be available to a wide range of learners from those still in secondary school to those in higher education to those seeking further professional development. The EIT and its partners will also work to level the playing field for groups that are disadvantaged in the worlds of tech and business, particularly women.
Nektarios Tavernarakis, Chair of the EIT Governing Board added: 'The EIT Community has once again shown its incredible capacity to break down silos and forge new partnerships! That's the strength of our unique model, which unites innovators who want to play a part in a more sustainable future. The EIT and our new partners both share a vision where deep tech like AI – which is changing the world as we speak – is developed and used first and foremost to help humanity with challenges like climate change, sustainable food production, and health crises. I look forward to working together with our new pledgers to develop the talent that will carry out this vision.'
These first pledgers already reached a major milestone and aim to train over 500 000 learners by 2025. JA Europe, Europe's largest provider of education programmes for entrepreneurship, work readiness and financial literacy will train 390 000 learners by 2025 under the Deep Tech Talent Initiative. Generation will help break down barriers to people from underrepresented backgrounds and increase their economic mobility.
Intel Corporation will contribute tried-and-true training programmes, including its Digital Readiness Programs, which prepare learners for the onset of AI technology. Learning providers such as the Technical University of Cluj-Napoca – the Initiative's very first pledger – will also bring their expertise in AI to the initiative, especially in biomedical engineering and energy. The Computer Vision Center will likewise contribute trainings on AI as well as entrepreneurial skills.
Salvatore Nigro, CEO of JA Europe commented: "Partnering up with Europe's largest innovation network is a no-brainer. We are happy to strengthen our partnership with the EIT Community through the Deep Tech Talent Initiative and share our expertise in teaching tech and entrepreneurship. Above all else, we want to ensure our learners a quick entry into the future of European industry. There's lots of great talent in Europe and the key is to empower as many young people as possible with Deep Tech for their future success. We are glad to see that the European Commission has recognised this and is moving in this direction."
More information on the organisations pledging to join the Deep Tech Talent Initiative can be found in the factsheet.
THE DEEP TECH TALENT INITIATIVE
The Deep Tech Talent Initiative by the European Institute of Innovation & Technology (EIT) will train one million Europeans in deep tech skills and entrepreneurship by 2025. To do so, the EIT will rally its network and new partners to develop trainings and courses in cutting edge fields that will be at the forefront of future industries. The long-term goal is to increase the amount of European innovation being created to fight climate change, create new agrifood systems, build more liveable cities, and more.
The EIT invites organisations involved or interested in deep tech to join it in shaping and running deep tech education programmes by taking The Pledge. The Pledge is open to:
·       Education and training institutions that offer educational and training courses and can be directly responsible for skilling and re-skilling talents.
·       Enterprises that are using or developing deep tech and can offer in-company training, mentoring, open innovation competitions, and other means of support.
·       Financing partners like venture capital firms or angel investors that finance deep tech innovation, including financing deep tech education and training.
·       Stakeholders/Multipliers like EU Member States and other public and non-profit organisations that can offer their unique inputs, expertise, and networks.
THE EIT – MAKING INNOVATION HAPPEN!
About THE EUROPEAN INSTITUTE OF INNOVATION AND TECHNOLOGY (EIT)
The EIT strengthens Europe's ability to innovate by powering solutions to pressing global challenges and by nurturing entrepreneurial talent to create sustainable growth and skilled jobs in Europe. The EIT is an EU body and an integral part of Horizon Europe, the EU Framework Programme for Research and Innovation.
The Institute supports dynamic pan-European partnerships, EIT Knowledge and Innovation Communities, among leading companies, research labs and universities. Currently nine EIT Knowledge & Innovation Communities are supported: EIT Climate-KIC, EIT Digital, EIT InnoEnergy, EIT Health, EIT RawMaterials, EIT Food, EIT Manufacturing, EIT Urban Mobility and the newest addition: EIT Culture & Creativity. Together with their leading partners, the EIT Community offers a wide range of innovation and entrepreneurship activities across Europe: entrepreneurial education courses, business creation and acceleration services and innovation driven research projects.
Press Contact: Jacobien Breukink
T: +36 306 750 171    E: press (at) eit.europa.eu
Source: https://www.eitdeeptechtalent.eu/news-and-events/news-archive/tech-organisations-in-europe-pledge-to-train-over-500-000-deep-tech-talents-with-the-eit/